Social Meeps was the original name that was given by alexnewtron. Social Meeps was also registered under .net and not .com. This was changed in the middle of it's lifetime to .com. Then a while later, it was then changed into the name of MeepCity in around February of 2013. February was also the time that Social Meeps shutdown for new coding. Social Meeps is now reopened on March 2014. Now with the name MeepCity.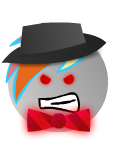 In Social Meeps, there were many hats that were subject to only a single size. MeepCity now has dynamic Meeps, which calls for any size hat to be created.
Social Meeps was a site that was made in January of 2012. It had a lot of success and increased in population. It had a very nice in-game concept where you could customize a colored ball with hats and it would roll around from place to place in a room in a room style. There were 4 places in MeepCity. The Beach, CoinShop, Dance Club (purple moon), and Pizza Parlor. Social Meeps was then renamed MeepCity at around February of 2013. Social Meeps was also shutdown in February of 2013 and reopened on March of 2014 with the name MeepCity.
MeepCity was then shutdown for good later that year. On October 6, 2015, Alex announced on Twitter that he's reopening MeepCity into a ROBLOX game.
MeepCity was then translated into a mini-game style game on ROBLOX, where you control a meep and you have to get to the end of tracks, and earn stars along the way. It was physics based and featured maps with curves similar to the likes of Sonic. Shortly after, alexnewtron converted MeepCity once more into a virtual hangout and roleplay game. It features many different things, such as home customization, stores, fishing, etc. The building style and gameplay is comparable to Disney's Toontown Online, which was one of Alex's favorite games as a kid.
As of 2018, the game has broken several records on ROBLOX, becoming one of the fastest growing games in terms of popularity; reaching 200 million visits in less than a year. MeepCity is also the first game to ever reach 1 billion visits, and has now broken records for being the first game to achieve 2 billion visits. If you want to check out the game yourself, you can do so here.